SHOW APARTMENTS AVAILABLE FOR VIEWINGS AND READY TO MOVE IN NOW!
Meet Carla Gomez
In the first of a new series of virtual meet and greets with our fabulous site team colleagues, we caught up with Community Manager, Carla Gomez to find out why there's no place like home at Coppermaker Square.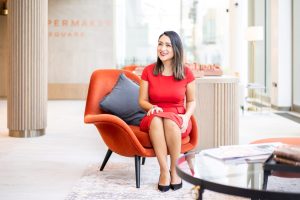 ''It is great to see how quickly residents are easing into life here at Coppermaker Square, and, in particular, how much they enjoy all the wonderful amenities,'' says Carla.  
''The communal spaces are working beautifully – you never have to leave the building if you don't want to! Our entire floor dedicated to co-working is proving really popular as are the lounge with gaming areas and the facilities for private dining. The jewel in the crown though has to be our Wellness Centre! Being able to benefit from state-of-the-art facilities in our full-size gym and studios, with a spa plus swimming pool all included in the cost of the rent is pretty special.''
Carla is currently planning a series of regular residents' events, which she sees as key for bringing the community together. ''It's my favourite part of my job! We want to celebrate wellness, diversity, creativity and networking so residents can get to know each other in an informal setting!''
"As people increasingly opt to rent long term, it's all the more important to cultivate a living environment with a real sense of community,'' Carla explains. ''This is why we have a dedicated team onsite 24/7 to provide services and support, from dry cleaning to parcel collection and maintenance requests. Not only is this reassuring, but it reinforces a sense of family.''
Away from work, family life keeps Carla busy. Walks with her dog and Sunday roasts with her partner and daughter are the highlights of her weekends, as well as socialising with friends and keeping fit.
''I LOVE a Zumba class after work!'' she laughs.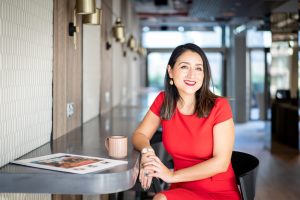 Being based in Stratford has enabled Carla to discover East London too, so what does she like most about the area?
''How lively it is!'' says Carla. ''The food, music and nightlife scene never disappoint, and I love to spend time exploring the area and discovering gems like Victoria Park – I never knew there was so much green space here.''
And if Carla could sum up the Coppermaker Square experience in three words?
''That's easy! Exceptional, community, home.''