BRAND NEW BUSSELL BUILDING LAUNCHED, VIEWINGS AVAILABLE AND READY TO MOVE IN NOW!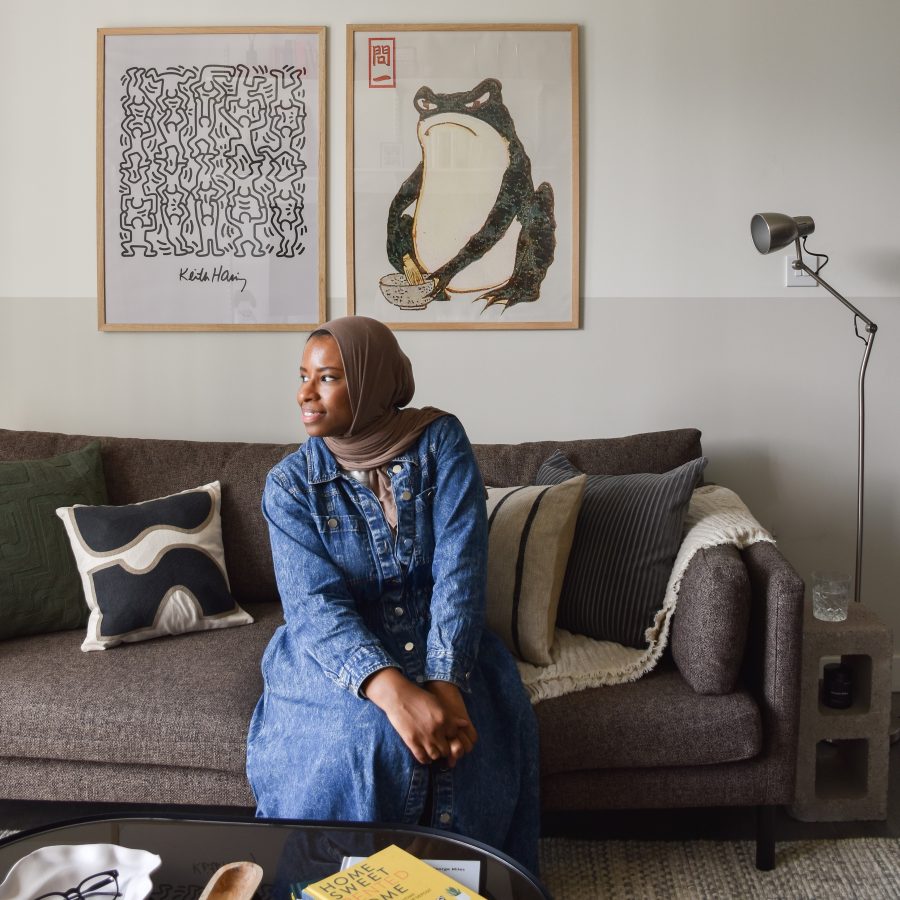 Local News / Rental Tips
Medina Grillo: rental home transformation'
Living at Coppermaker Square allows you to make your 'Home Sweet Rented Home', truly your own.
Medina Grillo, an interior stylist, DIY-er, blogger and author of the book Home Sweet Rented Home, brought a sophisticated personal touch to one lucky resident's home this month. The winner, Joe Seddon, won a resident competition to have Medina give expert advice on styling and home décor to transform a space of their choice in their apartment.
 Joe's brief was specific: he loved the Scandi neutral with a twist of quirky, fun street art. At Coppermaker Square residents are quite literally around the corner from Westfield Stratford City, so buying everything needed to make a home is made all the easier.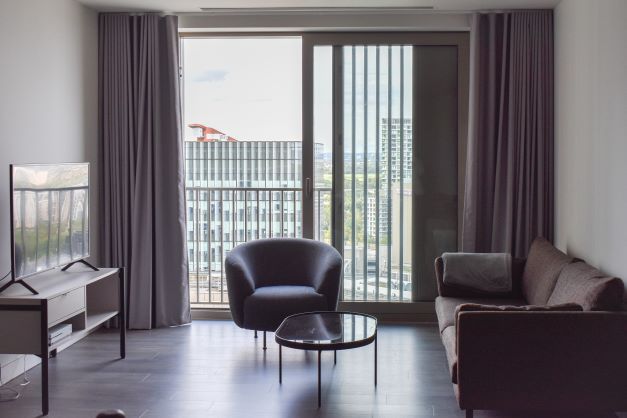 Medina explains her transformation process below and gives her expert advice on how you can create big change for your rented home, just the way she has made possible with Joe's living space:
"First thing's first, a lick of paint! There's nothing better than using some lovely paint to give white walls a much-needed facelift! I decided to go with a half wall, as it is not only less time-consuming to paint, but also easier for the residents to paint over if they decide to leave the property in the future – you really don't need much paint to make a big difference to a space."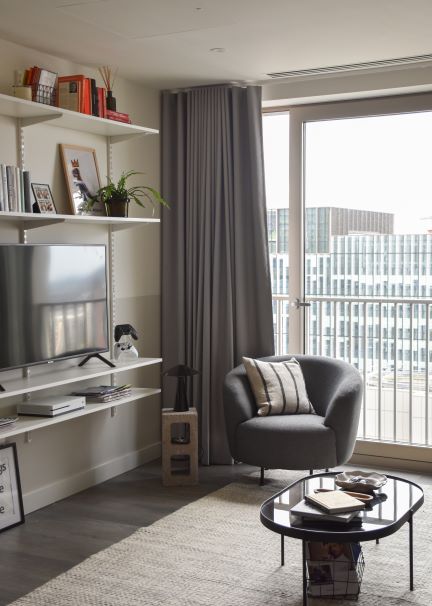 I went for this dreamy, warm grey colour called 'Egyptian Cotton' by Dulux, which I have in my own rented home. It adds warmth but keeps it classic. A half-painted wall also creates interest and can break up large white spaces or zone areas. As you can see in the before photos, there was no clear zone to signal that "this is my living space", so I wanted to create that definition. I think it's really important in open-plan or multi-use spaces to do that.
The other main feature I wanted to implement to create a focus in the living room was the shelving unit. It's a twin-slot shelving unit from eBay that is quick to put up and is modular so you can choose to add or remove shelving at anytime! So whether you want to elevate the way you present your television and create more floor space (that gives a feeling of higher ceilings) or you simply want to showcase meaningful trinkets and beautiful books – the world is your oyster and it can be used however you feel best.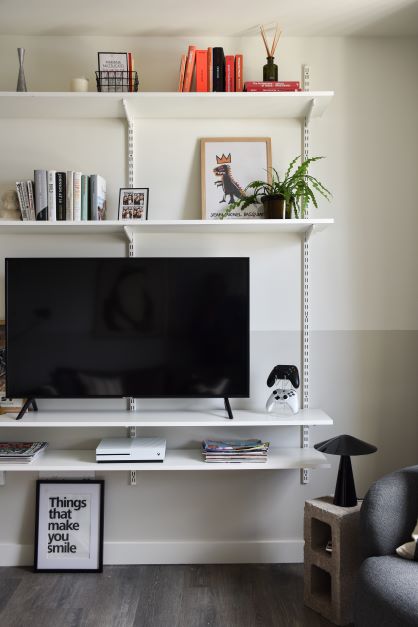 You could even paint the shelving to create more of a contrast or pop of colour. Although it's seen as a faux pas to drill holes into rented home walls, usually it's okay if you fill them in when you leave. Luckily, Coppermaker Square is all about flexibility and convenience and therefore allows you to do the latter!
Even if you can't or prefer not to paint or drill holes, there are still lots of ways to create a homely, personal and stylish feel to your rented home. I added lots of soft furnishings to Joe's apartment, including a large area rug from John Lewis, cushions, and a throw from H&M Home. I've also seen some people hang up feature blankets or quilts as artwork that look eclectic and textural. Remember, if you can't nail into walls, command strips are your best friend. Easy to put up, they last really well and can be removed easily too. I would suggest lighter-weight frames would work better with command strips and will be less of a worry than solid wood and glass frames. My advice would be to have a play with whatever feels like your style and personality. I've been known to cut up cushions or tea towels, even vintage-style packaging, to frame!
Most people may be surprised that lighting is something that is often overlooked when it comes to creating and achieving a certain feel for a home. Many rented spaces come with spotlights, so creating different moods can be tricky. I introduced some task and mood lighting for Joe by adding an adjustable lamp from John Lewis by the sofa which really elevated the overall vibe.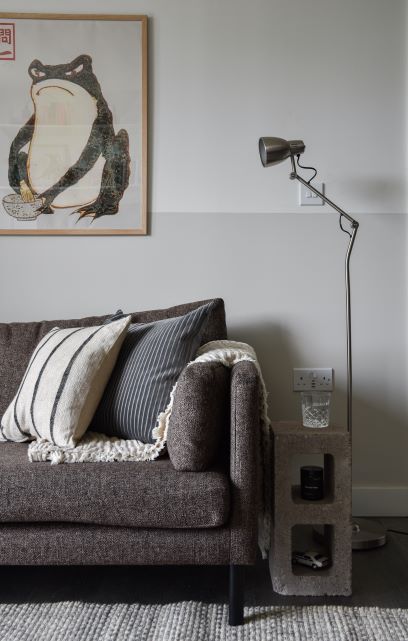 Art is something I always suggest to fellow renters to put up as it's something which can adorn your walls and you can take with you if you leave or move home. Joe wanted something a little different and these frog prints from Etsy really caught my eye as they are the perfect talking point. Plus, frogs also often symbolise good luck, new beginnings, and strength. The other prints I chose include a bag from the till at Flying Tiger (yes you read that correctly!) and a Banksy print to tie everything together for a curated finished look.
Since the pandemic, plants have really become a key way we decorate our homes. For renters, they're a great way to bring outside greenery inside, especially when you live in an apartment. Green has been proven to create a sense of calm and ease, plus plants give us that much-needed extra dose of fresh oxygen! Creating small rituals in our everyday can help us feel more grounded and at home, so watering plants (the jug is from H&M Home), tending to our plants and lighting candles, as well as spending time reading can help us create a greater sense of home.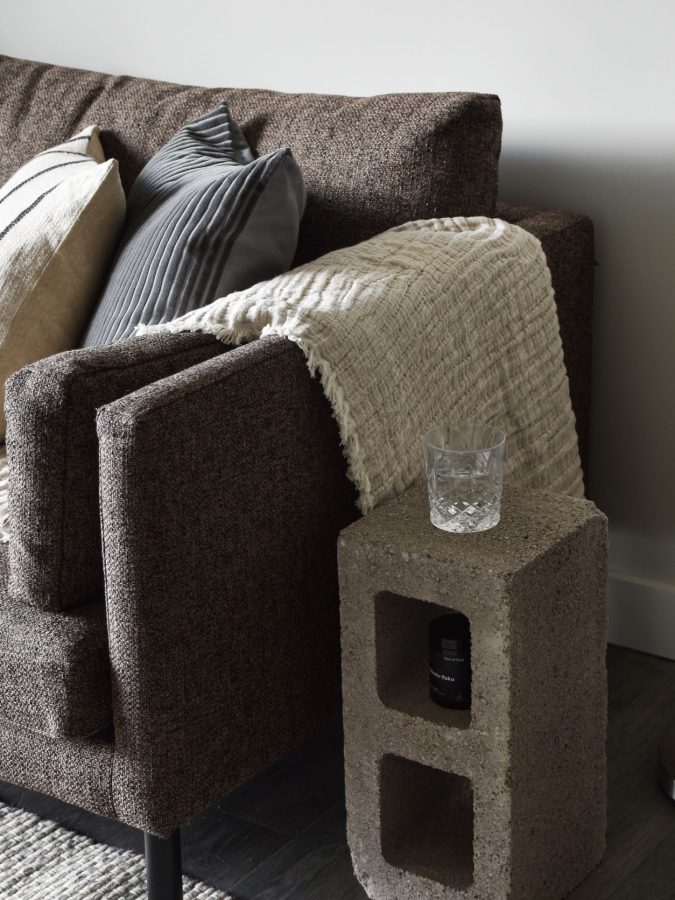 Joe had his books on a small bookcase in his bedroom. By bringing them out and getting a few new coffee books from TK MAXX we can further elevate and style the space, and also let guests know his interests too.
Our spaces are an extension of ourselves. I'm a great believer in creating a feeling of home, whether rented or owned! Don't be afraid to put your stamp on your home and don't rush the process either. Do your research and create a mood board to scout for pieces you love. You're worthy of a beautiful space, even when you rent."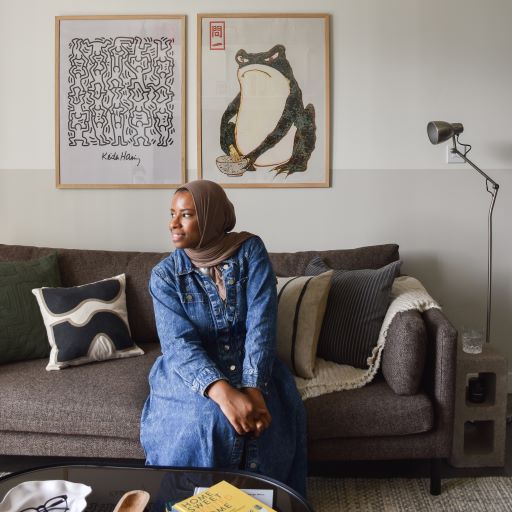 Cushion Covers: John Lewis & H&M Home
Candles: Earl of East and Black Pound Day ( Brûler Candles)
Paint: Egyptian Cotton B&Q Dulux
Plants: Beard and Daisies via H&M : Money Tree and Fishbone Cactus